ValleyVintner Vacuum Bottling System
Set Up Instructions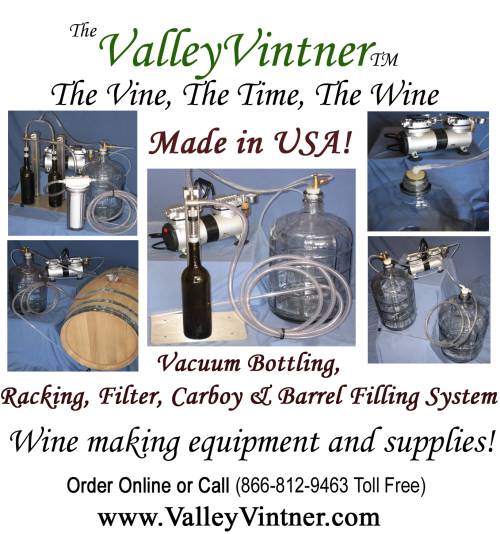 Complete Kit Includes:
Single or Double Nozzle and Stand
Oil Free 1CFM Vacuum Pump (2CFM Optional)
3 gallon Carboy Overflow Protection
Vacuum relief and speed control adapter
Vacuum Carboy Adapter for racking to/from Carboys
Vacuum Barrel Adapter for filling/racking/topping Barrels
Degassing Adapter for degassing carboys
Complete kit for filling/racking bottles, carboys and barrels.
Gently fill bottles, carboys and barrels. The system first evacuates the bottle/carboy/barrel eliminating the need for inert gas sparging. Then the system fills your vessel to your preset level. The fill height is adjustable to accommodate most all bottle sizes.
Control the fill rate by adjusting the brass valve on top of the overflow protection vessel. Monitor your vacuum pressure by the gauge on the vacuum pump.
Add the optional filter housing to filter inline while bottling or between carboys or barrels.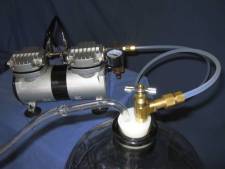 1. Connect Vacuum Pump hose to brass connection on the Vacuum Relief Valve. This valve controls the vacuum pressure and fill rate.
2. Connect the clear plastic tubing to the impinger side (plastic 900 deg tube). This goes to the intake side of your bottler nozzle
3. Insert the relief valve into your overflow protection vessel.
NOTE: An Overflow Protection Vessel is Mandatory to prevent fluid from being pulled into your pump. Fluid entering the vacuum pump will damage the pump and void your warranty!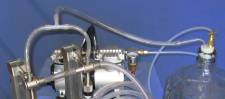 4. Connect the plastic tubing from your overflow vessel to the top connection of your nozzle. This provides Vacuum to the nozzle and your bottle when a bottle is inserted.
5. Connect your siphon hose to the 1/2" side barb of the nozzle.
Filling / Racking Carboys:
1. Use the carboy vacuum adapter to fill or rack carboys. Connect one end of the adapter to your Vacuum Overflow Protection Vessel the other to your siphon hose.
Filling / Racking / Toping Barrels: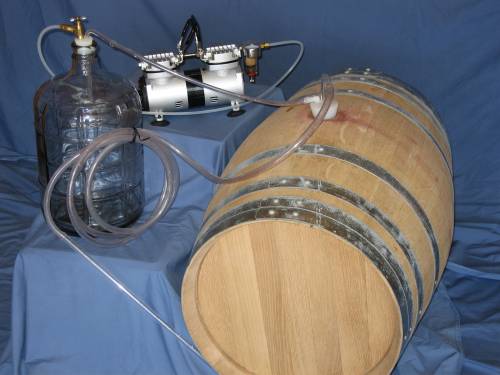 1. Use the Barrel vacuum adapter to fill, rack or top barrels. Connect one end to your Vacuum Overflow Protection Vessel the other to your siphon hose.
In Line Filtering: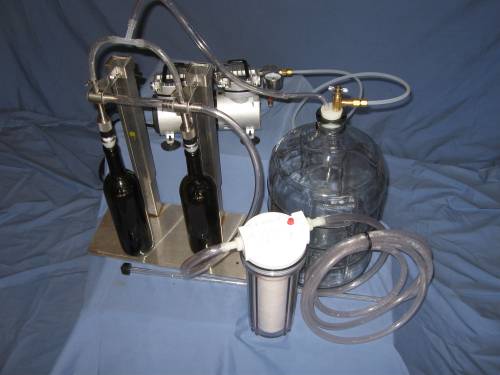 1. Add an inline filter (or multiple filters) as desired to filter prior to bottling.
Degassing Carboys: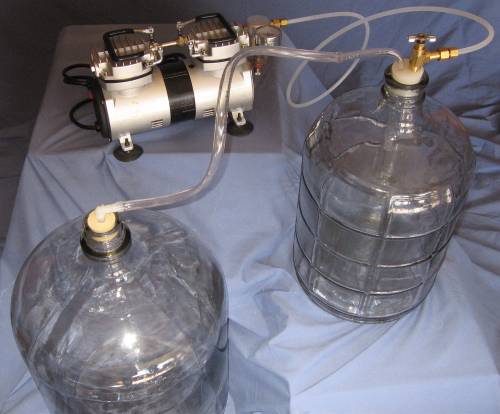 Never Pull A Full Vacuum on an "EMPTY" glass container as it can shatter !
The container must be full before applying a vacuum.
1. Connect your Overflow Protection Vessel to the carboy degassing adapter to degas a "FULL" carboy.
©2002-2013 The ValleyVintner, LLC. All Rights Reserved